When a celebrity ambassador for a charity touches down in a developing nation, we can expect an uptick in interest for their cause — but only for as long as the visiting star is around. Unfortunately, the problems facing the local population don't leave when the jet returns home.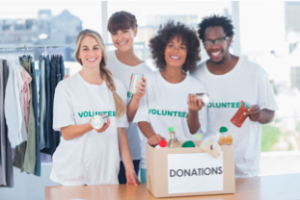 For many of us, that's not good enough. Helping a cause you're passionate about is more than writing a check once or twice a year or "liking" someone's posts about a project on a social media site. Helping a cause means actually doing something about it, and one of the most satisfying ways to help is to actually go abroad yourself.
"Voluntourism"
Combining travel and volunteer work — often called "voluntourism" — is one way to simultaneously see the world and make it a better place. Often, they include sightseeing and cultural events along with their philanthropy. This kind of program is excellent for spreading awareness when volunteers return to their homes, but it has been criticized for not being effective enough — and has even been criticized for exploiting some of the people or environments the trip was designed to help. Most volunteering tourists are only at a project for a few days or a couple of weeks at the most.
Teach English in the Peace Corps
A better avenue for hands-on volunteers helping a far-away cause may be to find a long-term solution. For some, this may mean teaching English as a Foreign Language and other subjects in rural communities too poor or unstructured to train up their own teachers. The United States Peace Corps is one popular way to do this, though there are other agencies. The Peace Corps was started in the early 1960s by President Kennedy and helps people in developing countries build better lives. Volunteers sign up for a two-year placement and are often assigned duties relating to education based on their own talents and levels of experience. Depending on the site they are sent to, volunteers teach English, train community members in health care, business or agricultural skills or other projects. Many returning Peace Corps volunteers later parlay their experience overseas into careers in Non-Governmental Organizations (NGOs), the State Department or international service organizations such as Oxfam or UNICEF.
Other Service Organizations
If the Peace Corps isn't the right option for you, or if you're intent on serving in a specific area, you should look at contacting overseas charitable organizations directly. Often, churches have coordinated long-term volunteer opportunities in other countries and sometimes they will also accept volunteers from outside their organization. A word of caution — be careful to screen agencies during your search for an organization to assist. While some agencies are useful in matching volunteers to positions overseas, others are for-profit entities that charge both you and the organization a fee for services.
There are many kinds of volunteer work you can do in other countries. From helping conduct environmental surveys in Southeast Asia, to counting turtle hatchlings in Costa Rica, to building new school houses and orphanages in Africa, to helping with paperwork and administration on any continent, you can do a lot to help people who have little.
One question many new volunteers ask when they go to work in a developing nation or remote region is why foreigners are needed to help in the area. This can be a highly charged political issue. The fact is, in regions with a lot of poverty, local people don't have the luxury to "work for free" and the government does not provide the infrastructure to cover the need. Environmental issues, sanitation, education and health care are often not prioritized for families who are struggling to find enough money and resources to eat and have a safe home. This is why foreign volunteers who act respectfully toward the host country are an asset both to the cause they are helping and the community as a whole.
Whether your favorite cause is education, clean water, preserving native habitat for endangered animals or something on the spectrum of human rights, there are many opportunities for you to make a difference while also experiencing the challenge of long-term travel.