Coastal cities are unique. Whatever drifts to them from upstream finally settles out, mixing with whatever came there before. The sediment that built cities like New Orleans is a fascinating hodgepodge from the countless tributaries that bring it.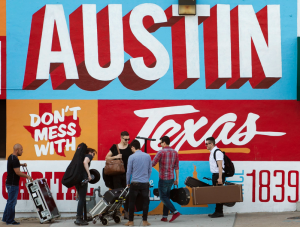 Culturally, it's somehow the same. While Houston doesn't lay claim to a major stream of water, there is a constant flow from along I-10, I-45, and I-69 that brings an incredible mix of culture and music to the city. The hinterlands feed the city with the talent that is buoyant enough to survive the trip, and the city's music scene shows it.
The city can claim Destiny's Child, Nancy Griffith, Stevie Ray Vaughan, and gospel's Yolanda Adams. So management outfits, promoters, and music publishing companies know there is fertile ground to plow in Houston, whatever their preferred genre.
When the musical farming is already so good, new techniques like social networking and the how-to guidance of  TuneCore fuel the fire of musical development. What else keeps Houston's music scene ablaze?
The Boost of Austin Without The Competition
The venerable "Austin City Limits" television show has taken names, faces, and songs all over the country from its Texas origins. Situated just 160 miles west of Houston, the city also pulls in major names and huge crowds for the SXSW music festival.
The ripples of Austin's impact, both through their progressive attitudes towards mental health, and with services like www.betterhelp.com, and of course, their music, the vibes slide straight to Houston. Musicians can visit to watch other performers, or to expand their own audiences. But famously musical cities like Austin have so many acts seeking stage time that many get none. A "talent overflow" like that helps feed Houston; those who can't get enough bookings in Austin will gladly go to Houston for stage time.
Hard Times
Tough times inspire great music. John Mellencamp wrote of the struggle of Indiana farmers. U2 sprang from the economic despair of Dublin's dying economy and the troubles of Northern Ireland. And the tenuous existence of coal miners put Loretta Lynn on the map.
Houston is at a crossroads of many different heartache-prone worlds. The oil business, with its boom-and-bust genetics, spurs the struggles that are behind the inspiration in so many forms of music. Drought has hayseed guitar pickers bemoaning failed crops on the Texas plains. Add the constant tension of living where Gulf of Mexico hurricanes make the turn down Tornado Alley and you'll see where Mother Nature can drive the heartache, too.
The Buckle of The Bible Belt
Faith is a powerful motivator, especially when it's a refuge from a hard life. While many gospel singers like Adams stay with the medium throughout their professional careers, many more branch elsewhere after first strumming or singing in a house of worship. Absent a strong musical program in public education, the church is often the most instructional music entity in a young performer's life, and it has a natural inclination to build a supportive and loving audience that can provide much of the power to launch a performer's career.
Hubside Service
Travel is a key component of Houston's culture. It's crisscrossed by several interstates, features a busy airport, and draws plenty of tourists for everything from professional sports to fun on the shores of the Gulf.
The constant flow of fresh faces through a city is a huge boost to budding performers. After all, the local venues will only book you so many times before you need to start finding some new stages to grace with your presence. When you can evangelize your sound to laid-over air travelers who've happened across your show at a local bar, your name travels with them back to their distant homes. With the instant gratification of social media hits—you may get followed or liked before the listener even leaves the show—you're far more memorable to your talent missionary than you would have been twenty years ago.
Diversity Through The University
College kids love music. They are among the first to cough up the cover charge for an evening listening to a band they've never heard of. And just as the aforementioned travelers do, they haul their newly-acquired music tastes back to hometowns all over the nation, sharing their preferences with friends and family, and building an audience for the performer. The city's four largest universities hold a combined student population of around 80, 000. How's that for a fan base startup?
While musical trends will come and go, the factors that drive a city's place in the industry don't change. Houston's music scene stands to remain a vibrant and diverse one for many years to come.