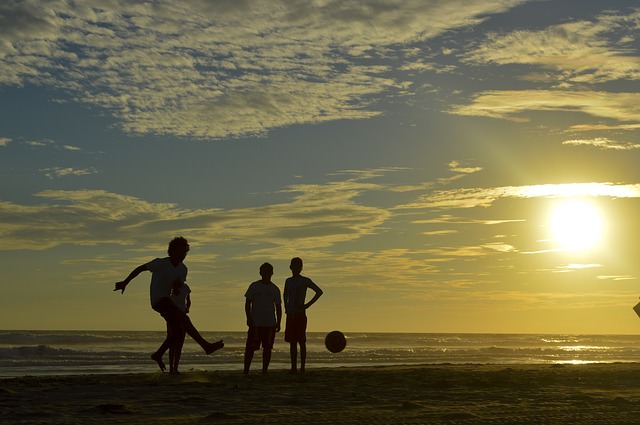 Most football fans already have Brazil and Barcelona on their list of dream destinations. But what about some of the less well-known countries, where the teams are beloved, football is celebrated and there's loads to see and do, to boot? Check out our guide to four underrated football destinations that are well worth a visit…
1. Cape Verde
Nicknamed the Blue Sharks, the Cape Verde national football team joined FIFA nearly 30 years ago in 1982 – and since then, they've made a name for themselves, especially with their amazing performance in the World Cup and African Nations Cup, both in 2006.
Perhaps it's their homeland that inspires these players, with its fusion of Creole Portuguese-African culture and beaches, home to windsports and diving among shipwrecks. Throw in the constant beat of music that Cape Verde is famed for and the renowned hospitality of its people and you'll see why so many have come here, and never left. Find out more about planning a trip to Cape Verde here and on Lonely Planet.
Costa Rica
For a country of just 4.5 million people, the Costa Rica national football team packs a serious punch. Not only the current Central American champions after winning the 2014 tournament, Costa Rica is also the most successful national football team in the history of Central America, with eight championships under its belt between 1991 and 2014.
And what a country to represent – this is truly a small slice of paradise, full of perfect waves, perfect sunsets and perfect beaches. Great for adventurers and outdoor enthusiasts, Costa Rica is awash with rainforest hikes and brisk high-altitude trails, rushing white-water rapids and world-class surfing. A must-visit destination for more than just its sporting legacy, there's plenty to do for any curious traveller.
Dominican Republic
They might not have qualified for the FIFA World Cup yet, but the Dominican Republic national football team one of the reasons why the sport is such an important part of the culture on this island. The Dominican Republic is one of the Caribbean's most geographically diverse countries, with stunning mountain scenery, desert scrublands, evocative colonial architecture and beaches galore.
Hundreds of miles of coastline define the country – some of it white-sand beaches shaded by rows of palm trees, other parts lined dramatically with rocky cliffs, wind-swept dunes or serene mangrove lagoons. Whether it's fishing villages where the shoreline is used for mooring boats or indulgent tourist playgrounds with aquamarine waters, the sea is the common denominator here – and you're invited to dive right in! Rough Guides has a great guide to the DR, and so does Holiday Hypermarket.
South Africa
And finally, it might be a better-known football destination, but the vast array of sights, sounds, activities and adventures on offer in South Africa makes this country worth a mention for a dream trip. The host of the World Cup in 2010, South Africa is also home to more registered football clubs than any other country in the world.
Football also has a symbolic role in the history of the country, as its first non-segregated football association, formed in 1991, was a key landmark in the abolition of apartheid. If you're planning a trip, take your pick from safaris and national parks, wine farms, the culture of Cape Town, the beach at Durban or the township of Soweto. Find out more about things to do in South Africa here and here.
There's no shortage of historic and culturally fascinating countries to visit for the true footie follower, so when you're thinking about where next to take the family or your pals for a break, consider soaking up the sun as well as some great football fandom!
Image credit.