Chinese New Year is underway and celebrations have already begun this year to honor the year of the "goat." It began on Thursday, February 19th and will last 15 days until March 5th, ending with the traditional Lantern Festival.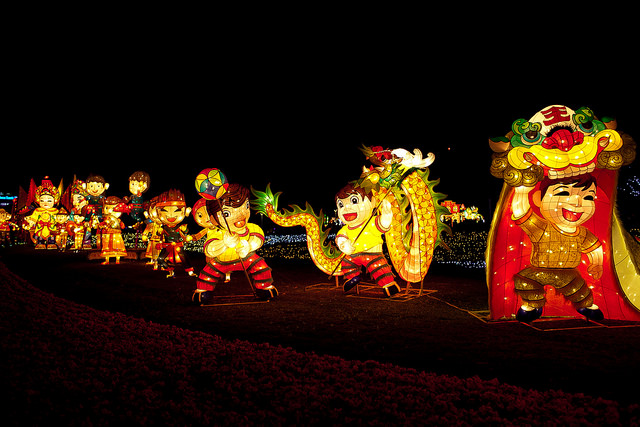 Image by ernestwong.net via Flickr
Zodiac Animals and Chinese New Year
Zodiac animals have been important throughout Chinese history, including during both the Han Dynasty from 206 BC to 220 AD and the Tang Dynasty from 618 to 907 AD. However, they were originally brought to China along the Silk Road, an Asian trading route from India to Han, China in as early as the 1st century BC.
According to the Chinese zodiac, there are 12 animal symbols and every 12 years they repeat, meaning that it's a different one each year. Each animal has different personality traits and would marry better with certain other zodiac matches.
This year, there has been some controversy about the symbol as the Mandarin translation of the word "yang" is sheep but if you use any qualifiers like " shan" or "mian" it changes the meaning. This is because the Mandarin language uses symbols and not letters. Some experts say the "yang" is more of a western connotation, where both the media have been using the year of the "sheep, " and the year of the "goat." Many locals and tourists alike are just enjoying the celebration and buying whichever mascot they prefer.
Celebrating Chinese New Year
Billions of people are travelling home to China currently not only for Chinese New Year but for Chunyen, China's Spring Festival, which runs consecutively into March. It's an important tradition for families to reunite for the new year, meaning everyone from college students to overseas workers returns home to China for the festivities.
Festivities kicked off on February 19th with events all around China, including a fireworks ceremony in Shanghai and traditional dances at Temple Fair in Beijing. In addition, you'll find both goat and sheep everywhere, from seeing stuffed animal goats on top of real ones at a wildlife park to watching herdsman feed their sheep and goats to visiting vendors selling tons of cute and cuddly stuffed sheep.
The festivities will end on March 5th with the Chinese Lantern Festival, the 15th day of the Lunar New Year. The festival is also called the Yuan-Xiao Festival, because you'll get to experience eating Yuan-Xiao, sweet rice flour balls. These treats are often filled with sesame or peanut butter paste and completed with sugar, though some locals still make savoury ones.
You'll find lantern displays throughout the different town squares and the temples, usually crafted out of paper and featuring this year's zodiac animal. In fact, in Taiwan, the government created an expensive giant zodiac lantern over 15 kilometres high on the city square of all the major areas. You'll find a fun and exciting parade and laser show, as well as a light ceremony. In addition, you'll get to see the Sky Lantern, where people write their wishes on lanterns, and then see them fly through the air, hoping they'll come true.
While this time of year may seem overwhelming, you can still find affordable China holidays, particularly if you don't travel where the heart of the festival is occurring. Consider going to see the end of the Annual Harbin Ice and Snow Festival. Both the Harbin Ice & Snow Amusement World and the International Snow Sculpture Art Expo are open until the end of February.
At the amusement world, you'll see fairytale ice sculptures, as well as various snow and ice activities for the entire family, including slides, ice skating and sleigh rides. At the art expo, you'll be amazed at the large scale design in the snow.
Are you planning to brave the chaos and travel to China during one of the busiest times of the year? If you have family over there, it's almost a guaranteed tradition.