Exercise is an important part of everyday life. It is essential that each member of your family remains as healthy as possible, the good news is that you can make exercise fun and do it as a family.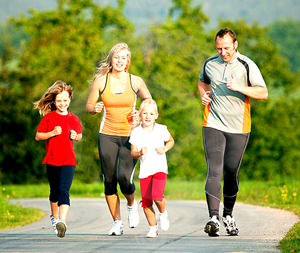 Exercising as a family will not only keep everyone fit but it will also bring you closer as a group. A family that plays together will stay together. It doesn't mean that you have to head out hiking each and every day, you can exercise as a group right at your home. Sounds perfect? That's because it is.
I would love to hear about your best ways to keep healthy as a family, all you have to do is pop down your thoughts and experiences in the comment box below this post. As a community we can make sure that we all stay healthy. So come on guys, how do you manage to keep looking so good and stay so healthy?
Here are 2 fantastic ways that you can exercise at home with your family.
Create a family boot camp
This has to be one of my favourites because it allows the whole family to choose their favourite exercises. The idea here is to ask each member of your family to write down at least five of their favourite exercises (the best ones to choose are when they use their own bodyweight). You should end up with at least 20 exercises – they can be anything from dance move, to yoga and anything that the whole family can do. Do each exercise for a 30 seconds each and then go for a sixty second run in between. You'll end up with a 30 minute workout that everyone will love!
Indoor sports
If you have space in your house and also a small budget then it is an excellent idea to buy something such as a table tennis table. Home Leisure Direct should be your first port of call for all the equipment you need. Table tennis is such fun and it really isn't too difficult to master if you put in several hours a week. You would be surprised how much of a sweat you can put on when playing an hour of table tennis, the fun means that the whole family will love it and want to try it more and more.