Fun Things To Do When You're In Miami
If you're looking for a city that has it all then look no further than Miami. If you want to party all night then you have South Beach, if you love nature you can head to the Everglades National Park, or maybe you just enjoy lounging on the beach of which there are plenty in this great city.
The other awesome thing about this place is that the weather is good throughout the year, so no matter what you choose to do when you visit you'll always be doing it under glorious sunshine!
I have been fortunate enough to visit Miami on several occasions, each time I go back I find something new to love about it. I am writing this from Miami, sitting here on one of the many Tropicalboat's gorgeous yachts  – I don't think there's a better place in the world to be working on this post. So if you're heading to Miami soon or need inspiration to visit, here are some fun things to do.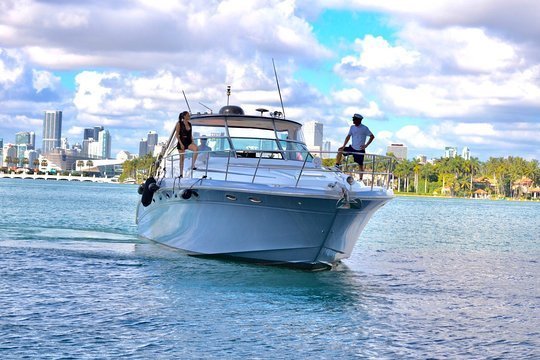 The Everglades National Park
Of all the parks in the country, the Everglades National Park has to be the most unique. It's located in the south of Miami and crocodiles, panthers and manatee call this place home. Quite a lot of the park is very primitive, so it is only seen by researchers and the adventurers, but don't worry because there's plenty for us to see; you can walk around, camp for the night and even canoe. It is a must see when you're in Miami. 
Head To South Beach
If you go to Miami and don't visit the iconic South Beach, have you actually been there? Everyone heading to Miami must include this hot spot in their to do list. The area is famous for its shopping and all night partying, it is a trendy place to see. I would recommend spending the weekend there; do a walking tour, checking out all the art deco buildings and of course partying the night away!
Taste Some Top Cuisine
As you may already know from the movies, there's a strong Cuban influence in Miami. This gives you the perfect opportunity to indulge in some amazing Cuban cuisine – eat as much as you can because I guarantee that as soon as you're back on the plane you'll already be missing it! There are plenty of great food shops dotted around if you're looking for a quick bite to eat. If you want the best restaurant in town then head to Versailles (yes, that is a French city but it's a Cuban restaurant here). If you read all the reviews then you'll soon learn that this is number one Cuban restaurant around. My favorite here is a Cuban sandwich and coffee, try it and you'll understand instantly why.
A Zoo Without Cages
The number zoo in Miami is quickly becoming the number one zoo in America. The reason that makes this place unique and a big draw is that the animals here are living cage free. The climate in Miami is perfect for numerous animals from all over the world such as Africa, Asia and Africa. Research is done to make sure that the animals put together can coexist peacefully and it also with animals from the same geographic region.
Wynwood Art District
Wynwood is a neighborhood that was famous for being an industrial place where street art and graffiti was all over the buildings. Nowadays if you head there you will find swanky bars, art galleries, hip boutiques and top-class restaurants. Don't worry about the new developments because down to a many called Tony Goldman, he lead the redevelopment and made sure art work would be on display – 40 murals have been created by the top street artists and world famous art institutions, they include the Rubell Family Connection.
Get The Brain Working
If you're in Miami with your family then a visit to the Miami Children's Museum is an absolute must, even if you don't have kids it's always a fun place to relive your childhood again! You know it's going to be fun and thoughtful when the motto is Play, Learn, Imagine, Create. That motto can be seen oozing out of every awesome exhibit here, the kids can go on an exploration of things such as a supermarket, all the way to a television studio, they'll learn some great lessons as they explore.
Have you been to Miami before? If so, I would love to hear all about your experiences, tips and tales. Just pop your thoughts down in the comment section below, I think it's great when we, as a travel community, can share our first hand experiences to help others make the most out of their next visit. Thanks for sharing guys, hopefully you give us all some real gems – I'm looking forward to reading all of your comments.