Whether you've traveled across the country to get here or you feel like exploring local camping options, Arbuckle Lake cabins offer something for everyone. Situated just three minutes from the Guy Sandy boat ramp, this cabin retreat is a boater's paradise. If you don't have a boat, you can still enjoy the facility amenities such as satellite TV, free canoe/kayak rentals, and fully equipped spaces.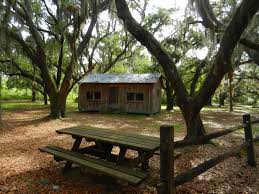 The cabins, conveniently located in the heart of the Arbuckle Mountains, are a great place to escape and relax. Take a short walk to Arbuckle Lake for swimming and boating, or enjoy a game of golf in the mountains. Craving some quality outdoor time? Head over to the Garold Wayne Interactive Zoo, which has rescued over 1, 400 animals to date, or the nearby Chickasaw National Recreation Park. Get a better understanding of the area's history with a visit to the Chickasaw Cultural Center or the surrounding museums.
Having the right cabin is crucial for enjoying your trip to the fullest. There are two Arbuckle Lake Cabins to choose from: Brandon Cole and Kourtney Jo. When it comes to finding Arbuckle Lake cabins to stay in, it's helpful to know that both options are new and updated, with many of the same features and conveniences. For example, each cabin has two bedrooms, one bathroom with a shower/tub combination, fully equipped kitchen, and an open living space. There is also a spacious deck with a grill on each cabin.
Brandon Cole sleeps up to seven people. This cabin offers comforts of home and has a two-night minimum. The rate is $200 per night, with an additional $10 charge each night for more than seven people. Slightly smaller groups should consider Kourtney Jo, which sleeps up to five people. Unlike Brandon Cole, which has two bedrooms and additional sleeping options in the living area, Kourtney Jo's guests can choose from one of two bedrooms, including full and twin beds. Nightly rates and additional charge rates are the same for this cabin.
Whether you're spending time indoors or grilling for the family on the cabin deck, the comfortable accommodations are sure to remind you of home. Each cabin has beautiful wood floors and furniture, including the cabinets, for a rustic and relaxing feel. Large, comfy lounge chairs and couches invite you to sit back and relax as you take in the peaceful surroundings. You won't find the fanciest appliances or furnishings, but what's here is updated and more than enough to ensure a relaxing getaway.
Once you know which cabin will work best, you can relax and begin planning the daily activities. If you're a boater, you will appreciate the boat-friendly circle drive and the discounted pontoon boat rental. Along with boating and fishing, the area caters to families with a nearby nature center, Cross Bar Ranch, and trail rides. Treat yourself to mouth-watering Bedre Chocolates or gather your thoughts while relaxing on an Arbuckle retreat in acres upon acres of wild, unspoiled wilderness.