I am sure that if you're like me you want to save as much money as possible when you're out on the road. Having more money in your wallet allows you to travel for a longer period of time and also gives you the luxury to splurge out when you want.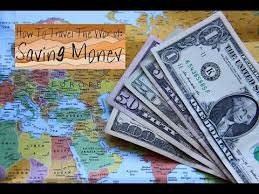 Over the years I have picked up some really usefull tips through experience and also from other seasoned travellers. Sometimes it can be a bit of a pain trying to save money at every turn but I have found that putting in that little bit of extra effort pays dividends in the long run. You don't always need to have that expensive coffee in the mornings or a fancy meal at night – I know that I would much prefer to save money and have so many more amazing experiences rather than eating some food that I can have when I'm back home.
Do you have any proven tips for saving money whilst you travel? I would love to hear your thoughts and also the best ways that you save some pennies when you're out exploring the world. Just pop down your ideas in the comment section below this article. I think it's great when we can, as a travel community, help fellow travellers with some top class tips!
So here are the main ways that I manage to save money whilst I'm out travelling, I hope they help you when you next hit the road. Let me know if you agree or have things that I should try out next time.
Booking sites
You don't always have to book before you travel but checking out comparison websites is a fantastic idea to get an idea of what you will pay when you're away. Personally what I will do is check out the cheapest deal online and then call the guesthouse I like. If they can offer me a better rate than the websites then I will snap it up there and then. Comparison websites are a great tool and should be used every time – you will also find some outrageous deals on them from time to time which means you'll be staying in luxury for the same price as a hostel.
Don't always fly direct
Flying direct is always something I avoid. Yes, I know that flying direct is more convenient and saves you time but spending a few hours on a stop over can save you hundreds of dollars. You can use those dollars to put towards tours, food and accommodation. I sometimes enjoy stopping over because I get to hangout in an airport I would probably never have seen, it also allows me to catch up on work and try and earn some money online!
Offers and coupons
In the months leading up to your trip it always a great idea to check out special offers and also pick up coupons offering you discounts on tours or travel. The best thing is that you don't need to do a lot work getting the coupons, all you have to do is sign up to mailing lists or visit specific travel sites on a regular basis. I recently picked up a Hyatt Coupon that gave me all sorts of incredible benefits. Airlines and hotels are always good for offering great deals, so sign up asap and I know you will not be disappointed!