Mexico is one of the best places to take a holiday. It has a wonderful culture, beautiful beaches, warm and clear water, and delicious food. It also has plenty of tequila available to warm you up at night.  There are several great cities in Mexico so it might be hard to pick which one to spend your holiday in. Each will have its own characteristics and a unique crowd that you'll find there. Its always good to do some research so you have an idea of what you're in for. Here are a few of the top cities that you can visit for your holiday in Mexico.
Puerto Vallarta
This is a scenic location if you've seen one. The Banderas Bay, which flows along the coast, borders the western edge of the town and the Sierra Madre Mountains can be seen in the east. It is the perfect scene where mountains and water meet.  The town has a very old feel to it which can be seen right away in the old cars that are driven. This town was a Hollywood hotspot for the likes of classics like Humphrey Bogart and Ava Gardner. If it's a cool enough place for them I'm sure it'll be good for you too!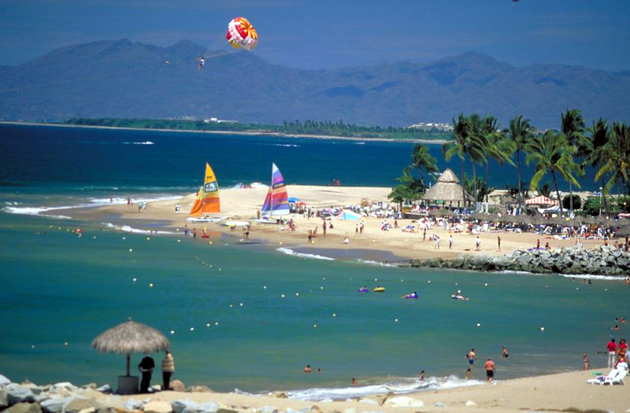 Tulum
Although this city has picked up a lot of popularity and has become known as a spot for people looking for luxurious travel, there are still bargain deals out there when looking for a place to stay. Tulum has also managed to keep its low-key tradition, especially compared to its counter parts during the Spring Break season, making it a great place to relax. Some of the most preserved Mayan ruins in Mexico are in Tulum, which makes it a truly unique place.
Cancun
Everyone knows or has heard stories about Cancun. It's a magnet for those looking to party. This becomes more than just a reality when American colleges get a week off for Spring Break. If you are looking to spend some time in the sun and party all day and all night then Cancun is definitely the spot for you. There are great flights to Cancun so there isn't any excuse not to check it out.
Mazatlan
This is definitely a Mexican city that is more off the beaten path than the first three on this list. It was once the most popular destination in the country and then hit a low point in the 70s and 80s. It has been going through a phase of revitalization which makes it the perfect place for a budget traveler looking for a quiet Mexican getaway.