The trip of a lifetime you have planned and saved for is about to begin. Everything's organised; visas, flights, trains, thongs, sun cream, and cameras. With every detail planned methodically you may wonder why travel insurance exists, but it is impossible to plan for every eventuality.  Southern Cross Travel Insurance is that security blanket for the things that happen you don't even want to think about.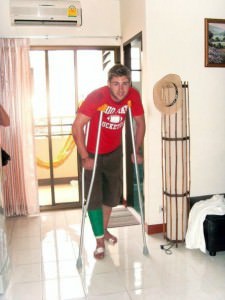 Taking Care of the Family
For the young Australian family travel insurance can seem like a huge chunk of your budget, but with Southern Cross Travel Insurance family packages are available, with little ones even going for free. Protecting children at all times on holiday is an impossible task, poolside slips and delicate stomachs are commonplace and you want the best possible care for sick babies. There's also the added bonus that if something happens the parents in the form of a personal accident, family cover will compensate for time spent unable to work.
For families travelling together, lost luggage can be more than an inconvenience, it can be expensive. Missed flights and delays can be disruptive to work and school, and tired children in airports are a parent's worst nightmare. Having an insurance policy that can see you rest in a hotel room during a delay will ease tantrums. Southern Cross Travel Insurance provides comprehensive family packages to help you relax abroad.
It's not about possessions, it's about you!
For the young backpacking adventurer without a planned itinerary, travel insurance may seem unnecessary-you can't miss a flight that hasn't been booked yet, and everything you own fits in a holdall on your back so it won't go missing any time soon. But the truth is late nights out and lazy days on the beach are often interrupted by a scooter accident, badly cooked shellfish or a nasty cut that just won't heal. When in a foreign climate small problems can be exacerbated quickly, and you may find yourself unwillingly in a hospital bed thanks to some street food. Consider travel insurance with a focus on medical issues an essential of your trip, and add and remove optional extras as required. If lost luggage only lightens your load just exclude it from your policy, and if you dread an accident occurring during a scuba dive, spend a little extra on sports and activities. A medical evacuation may be required if you find yourself stuck in some remote village with a serious problem. If your travelling on a budget, expensive medical  bills can send a low budget sky-high quickly.
Consider your destination and travel plans before buying your travel insurance. Search for a comprehensive deal that will cover any scenario in which you may need emergency assistance. For example, medical costs in the USA are very expensive, and if you can't afford travel insurance, then you really can't afford that surfing holiday. Extreme and winter sports can be added or removed as required. In South America and Asia, where hospital standards may be low and staff speak little English, a good insurance policy can aid an upgrade to a private hospital, or even have you airlifted to the best possible hospital for treatment. If you have insured your home and your valuables, then why wouldn't you insure your own body on holiday?
Certain Private Medical Insurance may cover foreign trips and medical bills, but will only cover select hospitals and may not cover medical evacuation. An insurance policy with Southern Cross Travel Insurance means that, no matter what hospital you end up in, your claim will be covered by your policy. Booking your policy external from your holiday also ensures that if your trip is cancelled or the company goes bust, your insurance claims are not tied to them.
For those with itchy feet
If you plan on taking multiple trips per year, invest in multi-trip policy. Although it may seem more expensive initially, it can save time and money in organising insurance every time you travel, just inform your policy of each trip you are about to undertake. Our policies are also designed to cater for pre-existing medical conditions, so if medicine is packed in that suitcase that has disappeared, it can be organised that you receive a prescription whilst away from home.
In spite of all the things you do not want to think about when going on holiday, you really cannot afford to travel without insurance.