Australia is a country that should top every backpacker's list. With such an array of outdoor activities, beaches and a laid-back vibe, it's just a fantastic place to explore. But there's no denying that this is a massive country! Transportation is definitely an issue to consider when you plan to go backpacking here. So take our tips on the best ways to get around Aussie: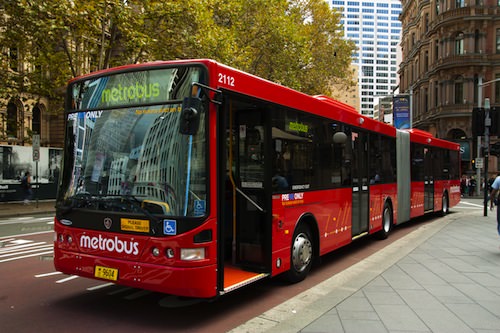 Bus/Coach
Traveling by bus is a reliable and relatively cheap way to get around Australia. Many bus lines will give you movies and an adjustable seat. It's obviously not the very most comfortable way to travel long distances, but it's certainly one of the cheapest. Check out Greyhound lines for schedules.
Plane
It's a bit more expensive than the bus, but traveling by plane is by far the quickest way to get around the country. If you want to explore both coasts and don't have weeks upon weeks to spend, you might want to consider hopping a plane. Quantas, Jetstar and Virgin Blue are some of the airlines which offer regular routes between the major cities.
Car
For more freedom, rent a car to drive around Australia! It's definitely an adventure and unlike with the bus, you can stop wherever you want, meaning you'll discover more places off the beaten path. Enjoy the scenic views driving along the coast while blasting your music! Just remember that in Australia they drive on the left side. Plenty of car rental companies lie just around the airports so if you're interested, that's the place to go.
Campervan
Want to up the ante of your road trip through Australia? Hire a campervan for the full Aussie experience. This is a country you really want to explore by immersing in the wilderness, and with a campervan you can stop anywhere for the night. Try campervan hire Brisbane to get an idea of the types of vehicles you can rent. A bonus is that you can travel with extra equipment like surfboards or rock climbing gear if you've got it.
Ferry
From Melbourne to Tasmania, the ferry called the Spirit of Tasmania offers the most scenic route. There are also ferries servicing various areas around Sydney and some of the other cities. It's certainly a scenic and fun way to travel!