Now that summer is finally on the horizon and we're starting to enjoy a bit more sunshine, an explosion of bank holidays will take place in the UK; most notably over the Easter period. No matter where you are in the country, spring frivolities are planned, whether that's a food festival or an outdoor egg hunt.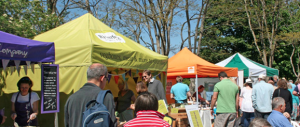 Everyone loves free entry to events – even if you'll blow a small fortune on homemade cider and local produce. Dartington Food Fair has a whole marquee dedicated to food! For the little ones, there are plenty of fun activities available, including face painting, fire juggling shows, animal petting, and pony rides. You can even try a spot of kayaking or archery.
For £45 you could join the Masked Ball for an amazing festival experience, including performances from Groove Armada, Cuban Brothers, and amazing DJs. Party in the grand tent ballroom and enjoy some enthralling events.
If you haven't danced to electro swing, then you haven't lived. This funky crowd really makes for a wonderful get-together full of free dancing and street antics. Swingamajig takes 1920s music and gives it a modern twist. That aside, this has to be the best-dressed festival of them all. If you're interested in swing dancing and lindy-hop, this is a great opportunity to learn!
Oh, and there are some amazing circus tricks too!
English National Surfing Championship, Newquay
Want to see some rad surfing in person? Newquay has the best waves and riders in the country, primed to show off what they can do. This could be a great day out for aqua-lovers.
Peace, love, and good vibes – Wild Heart is the quintessential hippy festival for those that want to spend their time doing yoga and dancing around a maypole. Wild Heart promises live music, workshops, dancing, Shamanism, nature connection, meditation, singing, debates, and bushcraft. Food for the soul!
Armour Of The Superhero, The Royal Armouries
The Royal Armouries is known for its historic re-enactments and showcasing the armour of Kings. This May, they are offering something a little different: superheroes! Comic fans will be able to attend art workshops to learn how to draw some of their favourite heroes. There will be talks on how to fight like a superhero, as well as appearances from Iron Man and Wolverine.
Every kids' idea of paradise, Hamleys is getting into the spirit of May the fourth (May the fourth be with you) with a Star Wars invasion of the store. Bring your lightsaber and prepare for battle!
This Easter Monday, Port Lympne visitors can meet Michaela Strachan (from the Really Wild Adventures Show). She will be hosting her popular programme at Port Lympne, so there's no better time to take a short break in Kent.
You may not think that a beach party is best found in Scotland, but there is plenty at The Big Beach Ball to convince you otherwise. With an amazing art-deco ballroom, a vintage market, and a tiki bar, you can enjoy parting down to your favourite live bands and DJs.