The first thing that might pop into your head when you think of Saudi Arabia is the warm, billowing sands of the desert, the romantic view of sheiks on camelback and the glistening sight of ancient cities in the far-off distance, winking at you as though a mirage had enveloped your senses.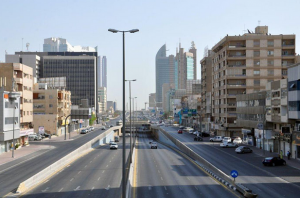 In reality, Saudi Arabia is a fast-moving place, brimming with modern metropolises that rub shoulders with the traditions of old.
Dammam, the capital city of Saudi's Eastern Province, is the perfect place to see this melding of new and old. Filled with a cosmopolitan buzz and the remnants of ruins in the Old Town, it offers everything you could want from a trip to Saudi and more.
For cheap flights to Dammam, your best bet is Saudi's dedicated airline Flynas, which can provide affordable and high-quality service for any traveller.
And, when your feet finally touch down on Dammam soil, here are a few places you should give a gander.
The Old Town
A place for the culture buffs to set their eyes upon, The Old Town is a raggedly beautiful area situated in the centre of Dammam's Tarout Island.
Featuring a castle that supposedly dates back more than 5000 years, it's the type of place that's been built on for centuries to, like the number of rings in a tree stump, let you know just how long civilisation has existed in these desert climes.
Dolphin Village
If you're looking to cool down in the Dammam heat, then look no further than the Dolphin Village for aqua-based fun that will please adults and kids alike. With live shows from seals and dolphins, a swimming pool, rollercoasters and a number of national events, it's well worth the journey.
Dammam Regional Museum
With six impressively sized halls, the Dammam Regional Museum gives you the chance to see history in a completely new light.
Taking you from the Stone Age to the present day, the museum also has a host of professionals on hand to give you the answers to the budding historical questions you've been dying to ask. So, strap on your culture hat and get educated with the Dammam Regional Museum.
King Fahd Park
King Fahd Park is the fun capital of Dammam, offering a ton of rollercoasters, fairground rides and a dizzying number of arcade machines that will have you reaching for extra SARs for just one more go.
Add to this the vast expanses of grass for picnicking, comfortably priced restaurants and the soothing atmosphere of its eight waterfalls and what you get from King Fahd Park is what everywhere in Dammam has in spades – atmosphere, heat and heaps of fun.