Kenya is famous for being the land of variety, which means your luxury safari could take you from rolling savannah to rocky outcrops in a matter of hours. This is why clients return year after year, there's just so much to see. The same applies to the numerous views you will encounter whilst on safari here. Part of the joy of being in Africa is certainly sitting on top of the tallest hill around and simply being, soaking in the sounds of the wilderness and being at one with nature. Nothing can compare to watching the sunset or rise from an elevated position looking down over the bush. Here are the top views in Kenya:
Tassia Safari Lodge – Laikipia

Tassia sits elevated above this wild part of Kenyan bush at the soaring height of birds of prey, which as you can imagine is pretty special. The lodge itself is made of natural materials and blends seamlessly into the rocks it is built onto. The rooms are very open with sweeping views of the bush – often full of elephant and other plains game. In the distance a large hill rises up out of the bush, and even further than that there is a large escarpment separating Laikipia and Samburu. Meals here are always served with the view in mind, and sundowners on an even higher flat rock are a highlight.
Saruni Samburu – Samburu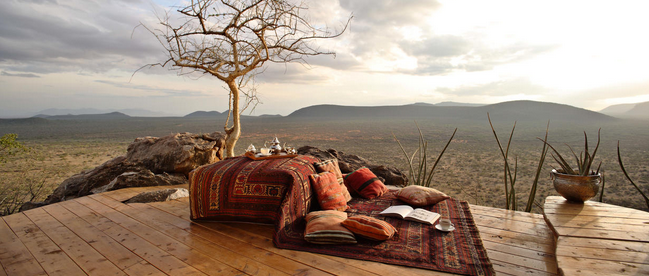 This lodge was built onto one of the Samburu spiritual rocks and it certainly feels quite magical. You drive up a very rocky road to reach the lodge, but are not treated to the view until you walk through the archway and into the main area – this is such a surprise and people are usually absolutely stunned by the Kalama Conservancy, which stretches before you. Every room has an enoromous private verandah with comfy seating options, making for leisurely days spent soaking up the view.
Ol Donyo Lodge – Chyulus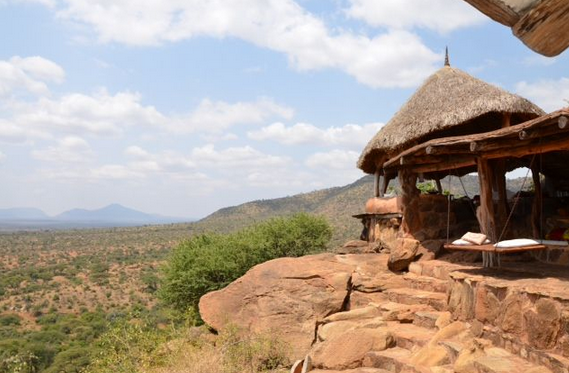 This lodge is sure to blow anyone away with its sweeping views of Kilimanjaro, vast open plains and rolling Chyulu Hills. It is dramatic and stunning and every room is positioned to soak up the vast vistas and come complete with private star beds for night sky experiences. The landscape around Ol Donyo is populated by short grass plains, which are dotted with zebra, giraffe and elephant as well as all the big cats. In the far distance you will also see the bright red of a Masai Warriors shuka.