Polzeath is a small village situated south of Port Isaac and north of Padstow in beautiful north west Cornwall. Its main beach is Daymer Bay just south of the village and its twin village of New Polzeath.At low tide the beach is very wide and you can walk a fair distance to the sea.Access to the beach is by car or, if you prefer, by the coast path that offers stunning clifftop views. Transport is vital in this beautiful part of the world to enable you to reach the various attractions around Polzeath. For example in Padstow for the history buffs among us there is Prideaux Place, an Elizabethan manor house built in 1592 and its gardens which are undergoing renovations that will transform them back to their former glory.Staying in Padstow take a visit to the local museum in the Market Place of this picturesque working harbour town. There you will learn of the collapse of the tin mining industry and the mass exodus to America that followed.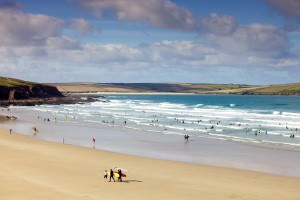 But let's not get ahead of ourselves, first and foremost you need to find accommodation. Polzeath is a perfect place to base yourself if you wish to explore this stunning part of Cornwall. Polzeath accommodation is of the highest calibre and has many differing types on offer. From country house hotels to bed and breakfasts to a buzzing holiday rentals business ranging from small cottages to larger, more exclusive properties.
The internet will give you all the information you need about Polzeath accommodation.Ideal for that short romantic break of 2 to 3 days or a longer stay in one of the traditional Cornish cottages that dot the landscape. If it's a family holiday you have in mind then a bungalow that sleeps up to six or a larger secluded property that can sleep ten or more would suit you.
Polzeath village is small but it has a few shops and eateries that allow you to stock up on provisions and in the evening stash the car away and stroll into the village for a meal. Polzeath accommodation is in many cases pet friendly so why not bring Rover along and enjoy the coastal path walk, bring your camera along, not for Rover but in order to snap the panoramic views of this rugged coastline.
Before you depart from home to book a table at one Rick Steins restaurant's in  Padstow just to put the icing on the cake of your Cornish dream break.