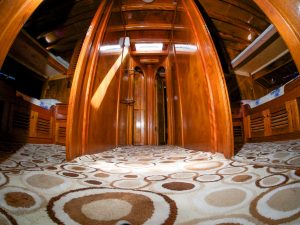 The Province of Mugla in south west Turkey is a central part of what has become known as the Turquoise Coast. It has an extensive coastline that offers holidays both among the Greek Islands in the Aegean and along the southern shores of Turkey that face Africa. The three most popular ports to start your trip are Bodrum, Marmaris and Fethiye.
Bodrum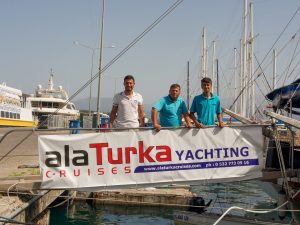 If your Yacht Charter Turkey starts in Bodrum you have plenty of choice. The Peninsula on which Bodrum is located has many small coves and beaches and within reason you will be able to anchor anywhere you like. You can avoid the crowds if you wish or go ashore for some nightlife before returning later to sleep.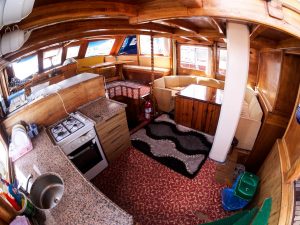 Kos is just a short distance due west from Bodrum and there is no problem entering Greek waters. Kos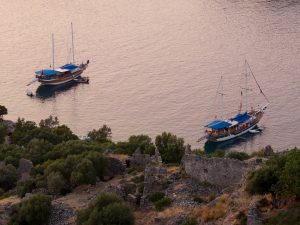 vious island to pick though charters will certainly call at Rhodes as well.
Marmaris
Sailing holidays out of Marmaris provide several alternatives including the Greek Island of Rhodes, the largest of the Dodecanese. Rhodes' Old Town is particularly interesting while this island also has plenty of places where you can swim without many people around.
Should you decide to head wrest from Marmaris down the Datca Peninsula there are a few things worth seeing. Cleopatra Island in the Gulf of Gokova is lovely. It is thought that Mark Anthony imported the sand to create a beach for his Egyptian lover. It is still there for everyone else to enjoy. There is a small marina in Bosborum and a bigger one in Datca itself which receives significant traffic from yachts sailing in both directions, east back to Marmaris or west then north towards Bodrum. Incidentally Bosborum has a shipyard that is scheduled to build the largest sailing boat that will exist in the world. The project is still at the planning stage at present.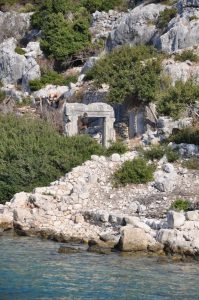 If your choice is east then ultimately you will reach Fethiye but not before you have the chance to see Iztuzu Beach near Dalyan and call in at another modern marina in Gocek, probably stopping at some of the small uninhabited islands for a swim.
Fethiye
If you begin in Fethiye and head west then you will see the things just described but the easterly route is just as appealing.
Tersane Island was once the home to a Greek population. They left when the Turkish Republic was formed in 1923. It has no permanent residents other than some goats but there are tourism facilities and a chance to swim
The Blue Lagoon and Oludeniz Beach makes a great photograph that has been used many times to advertise Turkey.
Butterfly Valley and its large variety of butterflies and moths in the height of summer, a green canyon despite the heat and lack of rain.
Patara, a long stretch of sandy beach that will never be crowded.
Kalkan with its small harbour, bars and restaurants with accommodation in the form of villas and hotels on the slopes above.
Kas, another 30 kilometres east, now a major diving centre on this coastline.
The Greek Island of Meis just offshore from Kas, the most easterly of the Greek Islands.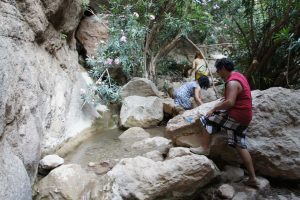 The list goes on. You may be heading for Demre as the final destination. If you are there is the sunken city of Kekova on the island of the same name, the ancient city of Myra, the former home of St. Nicholas and the Chimera, the flames that have burnt out of the rocks with no apparent heat source. With all these things to see and do you will have to return again.