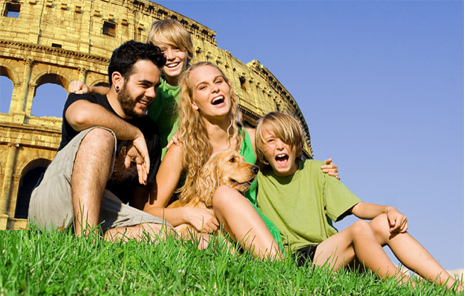 Some of our best memories include the family vacations we all had as kids. Hit the nostalgia nerve right there, didn't we? Most of the family vacations are so meticulously planned and organized that it hardly leaves time for some free wheeling and fun time. If it's a trip back to your grandparents' then you're pampered rotten. If it's some holiday destination, then your mom takes the role of your itinerary planner and your dad becomes the designated guide/driver/supervisor! As you take a trip down the memory lane, we'll help you figure out some of the best family activities to do while you're traveling. Meanwhile, you may consider to take advantage of various travel discounts using Makemytrip coupons available at GrabOn.
Volunteer
We know you're on a vacation but if you haven't volunteered while on a vacation, then you're missing out on some fun here. Fun which comes with its fair share of good morale boosting and conscience. Volunteer at an animal shelter or oldage, the feeling is priceless and with family? It only gets better.
Walk around
You're in a foreign city and everything is new and exciting. The best way to get into the hustle bustle of the city would be to watch the city closely. Walk around the quaint streets and savor the local delicacies. You will not be disappointed.
Plan a picnic
Now, this could be a day long picnic or an adventure hike trip depending on the location. If there's a city park or a lake somewhere nearby, plan a day long picnic. Prepare the basket, carry some sports gear like badminton or cricket equipment or even some board-games.
Art and museum
The best part about museums and art is that there's something which caters to all age groups and is highly fascinating. Take your family on a city art tour and give them a glimpse of the cultural and historical galleries as you watch them in awe of it all. It also makes for some excellent conversation material!
Attend a stand up
Find out a comic gig which is family friendly and take your kids there. This could prove to be a herculean task but several comedians are attempting clean family room humor. Give it a shot! The family that laughs together, stays together. True story.
Random drives
Drive through the buzzing rural life, the scenic landscapes, bustling city life, undisturbed highways and all other places you encounter. Drives with the family are the best as you get to catch up with each other.