One of the benefits of travelling the world is that it will make you more sensitive to noticing socio-political changes around you. Changes can be seen in the smallest things. During my recent visit to Scotland, I couldn't help but hear the winds of change whistling in my ears. And I'm not talking about the 1990's power ballad by Scorpions.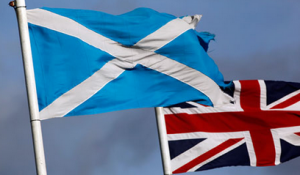 Right now, Scotland is boiling. On Thursday 18 September 2014, the Scottish will take to the polls in a referendum that will decide whether their country should be independent from the United Kingdom. Whatever the outcome, it was nice to get a taste of the coming run-up to Septembers referendum vote.
Scotland and England formed the Kingdom of Great Britain in 1707, so this is potential major break-up we've got here.  Even so, the political upheaval is nothing like The Troubles we had in Northern Ireland. This feels more like a conscious uncoupling, if I dare use an already hackneyed phrase by fellow blogger Gwyneth Paltrow.
I truly feel lucky to have visited the country during such an important time. I don't dare to take sides in this. As a traveller and observer, I'm not sure I should. But even so, here are a few things I noticed while travelling.
Scotland's flag, St. Andrew's Cross, was everywhere. It was hanging out from balconies in Edinburgh, in pubs, on cars, on people even. The same thing goes for various campaign posters for either the YES campaign or the Better Together ditto. In pubs, I overheard lively discussions on which way to vote.
National identity was manifested in everything from buses to chicken shops. I even saw that the Scots have got their own national lottery, which seems like a false start to me, but whatever.
I can't think of a lot of other countries whose people have such strong national identity. Most people "know" Scotland before even getting there. What other people have that quality? Whether the country becomes truly independent or not, it is already clear to me that Scottish identity have received a further boost.
Experiencing political change in any country can give you a fully loaded shot of culture. I've seen my share of change, having travelled to over 100 countries. Sometimes political change makes a country less suited for your average tourist visit. The often violent demonstrations I've witnessed in Thailand is one example. Still, I wouldn't want to take any of it back.
What I'm trying to say is this is such a great time to visit Scotland. Go there now and receive a Scottish experience in full.
Have you been in any country undergoing significant change? Please share your experience.