With the winter fast approaching it's time to start thinking about the clothing that we are going to wear that will keep us warm and safe from the elements. I always head to a shop or online store with a large selection of outdoor apparel so that I have lots or choice and can make the best decision.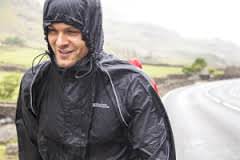 One of the items that is always on the top of my list is a waterproof jacket, too many times in the past I have bought a jacket that leaves me wet through! WIth a good waterproof jacket you will still be able to brave the rain and use it whether you are shopping, hiking, fixing your car or even going for a run.
So how do you choose the right waterproof jacket? I think we are all swayed by the price of the jacket, the fit and also the design. A North Face sale is a great place to find a deal on a jacket that will last years so you should definitely keep your eyes open for the times when the premium brands go on sale. What a lot of us sometimes overlook is the waterproof features of a jacket, I think if we know more about this we can make a more informed decision.
To help you choose a new waterproof jacket I have put down some great bits of info here, I am sure it will help next time you hit the shops.
Waterproof?
There are two kinds of waterproof jackets available, water resistant and fully waterproof. Water resistant jackets are sometime called showerproof jackets and are equipped with a water proof layer, the fully waterproof jackets are obviously better for the rain and a made with waterproof membrane and also taped seams.
Breathability
Breathability is extremely important when you choose your jacket. This is basically how well the jacket allows your perspiration to get out without letting water in. If you don't choose a jacket that is breathable you will often find that you feel damp and hot inside, the sweat has to have a way of escaping. If you are doing anything energetic or physical exercise then the breathability of your jacket becomes much more important.
The Fit
You will notice big differences between the way that the waterproof jackets for men and women are cut, the biggest difference being the length of the arms. It is not uncommon for women to buy men's jackets because they allow for a looser and more snug fit. When choosing the fit it is important to remember the amount of layers you will be wearing under your jacket – if you will be wearing it during the coldest months then you need to allow space for jumpers and scarfs. The same consideration should be taken if you plan to wear the jacket when you are backpacking or hiking because you will need your arms and shoulders to be able to move freely.