Tenerife is one of the best places in Europe for you to take a holiday break, thousands of people flock there each year to to enjoy everything that this fantastic place has to offer. There is something there for everyone, whether you are a family, group of friends or a couple, you will something for you in Tenerife. I have been lucky enough to visit on a couple of occasions and I can tell you that every time I leave I look forward to going back again and again. If you want to escape the horrible weather that we are experiencing in the UK then look no further than Tenerife! There are so many great holiday deals out there at the moment, so there really is no reason for you not to book your ticket and head off for a superb holiday. If you find one of the great offers then do not hesitate to book it straight away, I promise that you will have a great time and will be thankful that you snapped up that deal when you could. One of the things that keeps me going back is t he Teide national park in Tenerife (Spain), take a look at some of the pictures online and I am sure you will want to go. Here are my reasons for why I want to go back as soon as possible and why you should book a ticket now.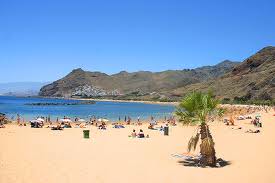 The Sunshine
We all know that in the UK we don't have too much sun, especially not at the moment! If you want to have a holiday where you are almost always guaranteed sunshine then Tenerife is the place for you. Expect sunshine and great temperatures, nothing beats sitting out enjoying a nice cold drink in the cool evenings.
The Beaches
Beaches and good weather go hand in hand, luckily for us Tenerife has so many beaches it is perfect for a beach holiday. You could, depending on where you decide to stay, visit a new beach for each day that you are there – it doesn't get any better than that does it? The other good thing is that the in Tenerife they are always trying to create new beaches for us to enjoy, I'm hoping when I go back next time that there's a new one for me to try.
The Food
This is something that is essential for every holiday, great cuisine! If you are thinking about sticking to a strict diet then forget about it now, leave your diet at home and eat as much as you possibly can! It would be a crime to go all the way to Tenerife and not indulge in all of the food that is on offer. Sit by the beach in one of the many restaurants and tuck into some of the best seafood that you will ever try.