If there's one thing I seriously dislike, its holiday packing. I am no good at it, and I find the whole concept ridiculous. How am I supposed to know what I'm going to wear for two weeks? What if it rains? What if it's really hot and I've packed clothes for rain? What if my shoe breaks? These are all eventualities a girl must plan for, and the size of my suitcase and weight limit, do not allow for this!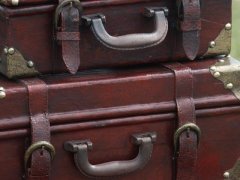 Whoever invented 20kg luggage limits did not have fashion sense, that's my only thoughts on the matter.
However, once the packing is done, the fun can start. The moment that suitcase is zipped shut for the last time, after I've checked it around ten times of course, my holiday begins.
Now, I'm not one of those people who get stressed about travelling, and I certainly don't go into meltdown at the thought of having to lug my suitcase to the airport, because I drive to the airport myself, and I do it in a leisurely way, firmly in holiday mode.
It wasn't always this way; I have very bad memories of loading suitcases onto a train, with impatient travellers waiting behind me. The lingering memory of that experience still makes me shudder to this day. No more stressful airport travel for me, not since I discovered airport parking.
The first time I booked airport parking, I wondered why I'd waited so long. I packed the car up with time to spare, loaded the kids in, happy with their books and DVD whilst they waited, we stopped off for a refreshments on the way, and when we finally arrived at the airport, we said goodbye to the car for two weeks, safe in the knowledge it would be there waiting for us when we arrived back.
The most stressful part of the whole travelling experience was my own paranoia that our suitcases would end up in a different destination to us once we'd waved them goodbye on the conveyer belt, but that's been a recurring worry since a very bad dream a few years ago!
I wouldn't hesitate to use airport parking again, and would advise anyone to do the same. No matter which airport you're travelling from, there's a service for you, including Luton parking, which my friend swears by, or more regional airports offering services too, such as Stansted Airport parking.
On top of this godsend of a service, there are also other little extras that further enhance the travelling experience, such as airport hotels, and airport lounges. For long haul flights, I can't recommend airport hotels enough. Long haul travel is exhausting as it is, and if you have an early long haul flight, it's even worse. Booking a hotel means extra sleep, which equals an altogether more pleasant travel experience!
Airport lounges are also great value for money, and a relaxing way to wait for your flight. Unlimited snacks and refreshments keep you fed and watered, and you'll board your flight without a headache from the loudness of your average departure lounge.
A chilled-out holiday deserves a chilled-out start – take my advice and you'll be smiling on your way to the sun before you know it.
Happy holidays!