Have you been to the Amalfi coast yet? If not then you're definitely missing out, if you haven't been there for a few years then it's time to get back there. I absolutely love the place, I fell in love with it as soon as I arrived. There's so much to see and do you never get bored, when your trip starts coming to an end you just wish you had another week or could live there forever!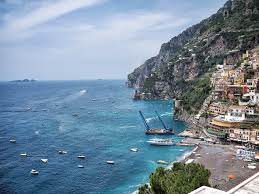 Italy is a fantastic country but when you spend a week or so exploring what the Amalfi coast has to offer you will fall for this country even more. I know that no-one needs any excuse or persuading to hop on a plane for a holiday because nothing beats taking a break of the hustle and bustle of everyday life, here are 3 great reasons why the Amalfi Coast should be top of the list for your next trip! I think they will push you to book that flight a lot sooner than you planned! So, read the list and the book yourself at the  B&B Torre dello Ziro for the ultimate relaxing holiday.
Hit the beach
Everyone loves the beach, seeing as the Amalfi coast has some fantastic beaches I think this is one of the best reasons to head there. I mean, who doesn't like kicking back on a sandy beach, sipping on an ice cold drink and forgetting all about the stresses of your 9-5 back home?
The amazing food
There's seafood, seafood and some more seafood! Italian cuisine is some of the best in the world, add to that some of the freshest seafood you can find then you are on to a winner! Nearly all of the seafood you will eat will have been caught that day – Mediterranean food is enough to take me back to the coast time and time again, forget a diet and eat until you can't eat anymore!
The people
Italian people may be noisy sometimes and emotional but I just can't find any reason not to love them! The Italians are some of the most passionate and generous people you will ever meet. If you have kids then you will be welcomed everywhere you go, I have never been to a better country for kids and this is because Italians seem to love children.
Have you been to the Amalfi Coast? Let me know if you agree with my list or tell us all what you loved about the place. I would love to hear your thoughts and stories, all you have to do is pop the words just down there in the comment box guys.