While the delights of Scandinavia are hardly a secret, the region is still somewhat up-and-coming in terms of its status as a prime holiday destination. Today, we'll be talking about the attractions of Scandinavia, as well as taking an in-focus look at one of its most appealing countries – Norway.
An introduction to Scandinavia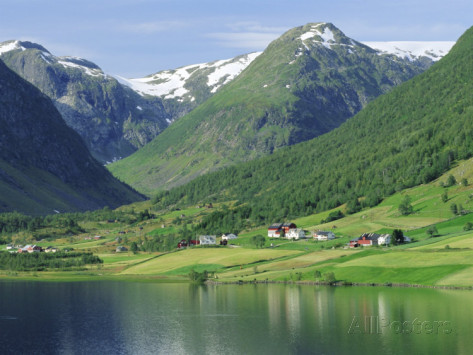 Part of northern Europe, Scandinavia usually refers to Norway, Sweden and Denmark – though there is some debate over which countries fall into this bracket. You see, parts of Finland are also situated on the Scandinavian Peninsula – but generally speaking, Finland is not classed as a Scandinavian country.
This is largely down to the fact that Scandinavia is more of a historical, cultural and linguistic region as opposed to a purely geographical one. This up-and-coming holiday region is full of delights, and Norway is the perfect place to visit if you want to get a taste of these. And, as a quick tip, this country is absolutely ideal for exploring on a cruise, which you can find out more about  here.
Norway's amazing cities
While it's fair to say that Norway's most famous for its fjords, it's also home to some absolutely wonderful cities. The World Heritage City of Bergen, for instance, is a real highlight, packed with historical sites and bags of authentic Norwegian culture.
Among the spots you really shouldn't miss is Bryggen, which is Bergen's famous Hanseatic wharf. This UNESCO World Heritage Site is easily recognised by its charming wooden buildings and, running behind the waterfront, its maze of narrow, tangled alleys dotted with museums.
Also well worth a visit is Norway's capital city, Oslo. Here you can explore cultural hubs like the National Gallery (home to the country's largest collection of paintings, sculptures and drawings), the Holmenkollen Ski Museum & Tower, and Vigeland Sculpture Park.
The fabulous fjords
Any trip to Norway – especially if it'll be your first – should include a visit to one of the country's beautiful fjords. After all, they're what Norway's most famous for, and they really are some of the most spectacular and tranquil sights on the planet.
Created during successive ice ages, the fjords are the defining element of Norway's landscape. And while there's no shortage of spots to visit, there are a few that stand out. The Sognefjord, for example, is the longest and deepest in the country – plus, you can see it from the Stegastein viewpoint, which hangs over a cliff edge some 650 m above the fjord!
The Hardangerfjord is another popular choice (particularly on cruises, since it's so close to Bergen, a common port of call). This beautiful fjord is also home to the absolutely stunning Voringfossen waterfall, which will definitely be a highlight of your trip.
The pull of the Northern Lights
Of course, another thing Norway's famous for is the Northern Lights – one of the most incredible natural phenomena on the planet. Painting the sky with shifting shades of green, pink, purple and countless other colours, the lights are caused by gas particles from the Earth's atmosphere colliding with the sun's charged particles.
While Norway isn't the only country where you can see the Northern Lights, it's definitely among the best. If you can, head to Tromso, which is one of the top locations in the world for viewing them.
World-class skiing
Not content with offering amazing cities, beautiful fjords and natural wonders, Norway also boasts world-class skiing. One of the best things about hitting the slopes here is that, as well as having really reliable conditions, Norway also has a very long ski season, typically stretching from November all the way to May.
Lillehammer is one of the top spots for skiing, being one of the country's oldest winter sports destinations. Plus, it has a grand total of five alpine centres, 92 downhill runs, six terrain parks and more than 2, 000 km of cross-country trails. Impressive, eh?