I don't know what it is about temples but I've got them on the brain at the moment. After a full temple session in Burma last week  at the Bagan Temples, I took another trip to a vast temple complex in South East Asia – Ayutthaya.
Ayutthaya is less than 100km from Bangkok so getting there should be no problem BUT choose your transport from this great day trip wisely: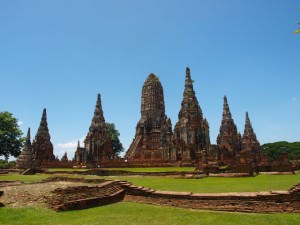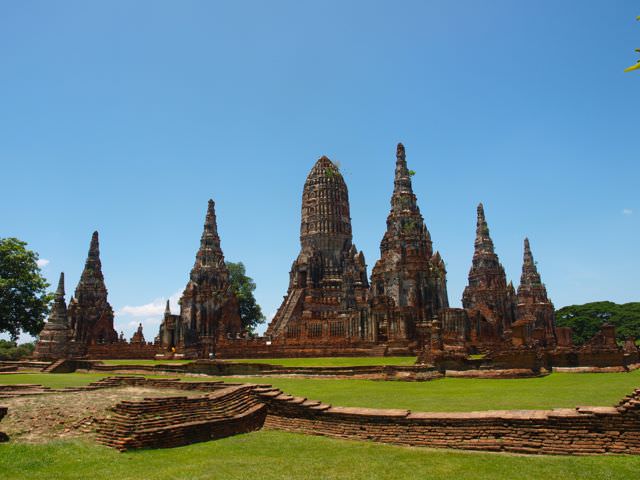 TRAIN: Probably more comfortable than the bus, the trains leave from Hualamphong Station in Bangkok's city centre (it's a subway stop so it's easy to access) and they leave every hour or less. The train takes around 2 hours and costs about 330 baht ($11). That's pretty expensive for less than 100km, especially in Thailand! 3rd class seats are available but generally they are only sold to Thai nationals.
BUS: Take around 90 minutes, buses leave from Mo Chit station twice hourly(on the subway system so easy to access – but from the Mo Chit stop jump on a motorbike taxi for 5-10 mins to get to the right bus section for Ayutthaya, the driver will understand!) and cost around $50 (less than $2).
MINI-VAN: Hang around Victory Monument (another subway stop) and jump in a van going direct to Ayutthaya. Takes around an hour and costs about 100 baht, buses leave when full – which is pretty regularly.
Personally the bus wins for me – it's a set time, it's comfortable, cheap and easy to navigate.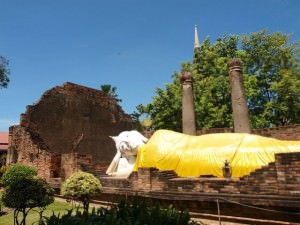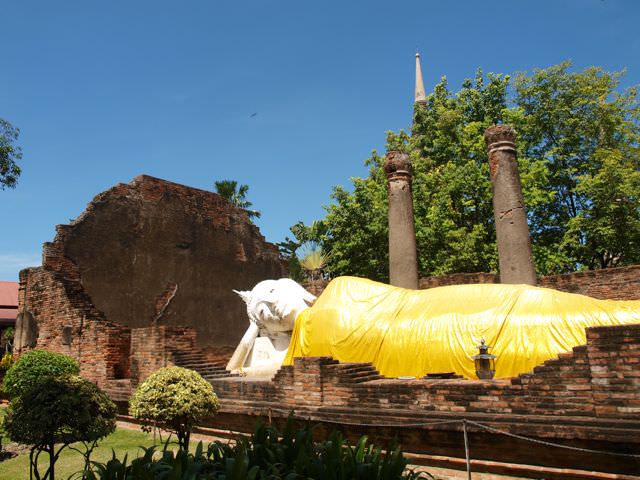 Once you finally arrive in Ayutthaya you need to work out how best to see all the temples. The main section you want to visit is actually an island within the city, so to get there you either take a 4 baht ferry (2 mins) or more likely you take a tuk-tuk to take you around for the day.
TRANSPORT TO SEE THE TEMPLES: The tuk-tuks will charge, after some easy bartering, 200 baht an hour – you won't get it much (if any) cheaper than that. 3 or 4 hours is enough to visit the main sites within the temple complex so around your bill will run round 600 baht  ($20) but you can fit up to 6 people in these specialized tuk-tuk so it can work out quite cheap. For the flashpackers among us, air-con taxis are available for around 1000 baht ($33).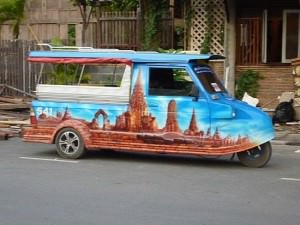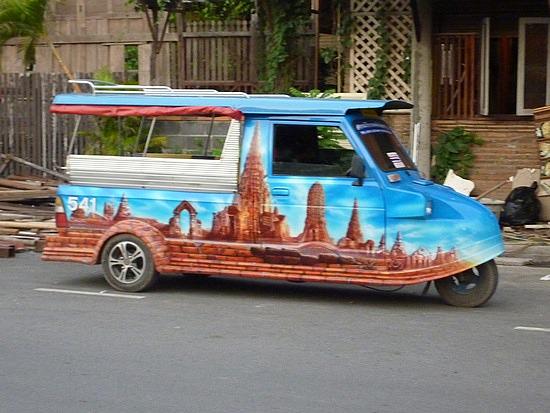 You can also rent bikes or even walk if you're feeling energetic. The 40 degree heat wouldn't allow that when I was there (unless you're a lunatic) but feel free to get healthy, it's a long walk though! Bikes are available from literally nearly ever hotel for around $1-$2 per day.
THE TEMPLES: What can I say other than 'wow'. Another cracking site to add onto Angkor Wat and the Bagan Temples. Get yourself in a tuk-tuk and explore for yourself, you'll love it I promise. Just check out some of these pics in the meantime: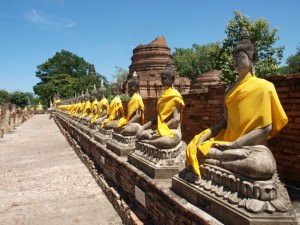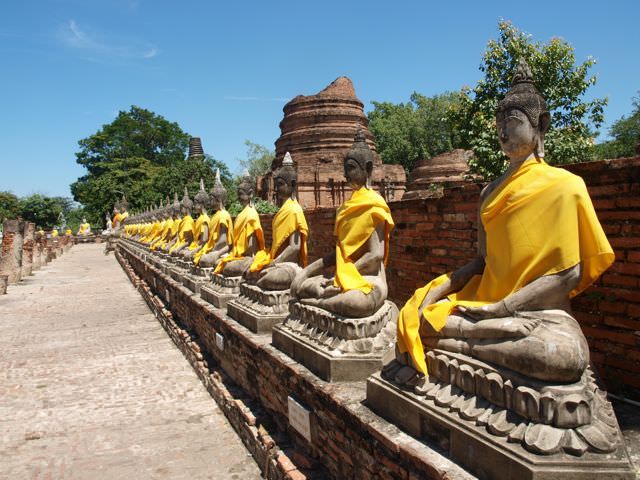 OK guys – this is an easy day trip from Bangkok so don't waste your whole time on Khao San Road or drinking buckets in Bangkok nightclubs, head over to Ayutthaya and get cultured! Happy travels!
P.S Remember to dress semi-smart, a little respect goes a long way J