It's very easy for us to want to pack as much as we can into our bags before we head off to travel.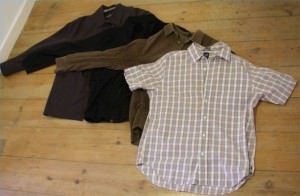 This is especially true when it comes to clothes. We always take way too much stuff, and end up not using all of them. The more we have then the better it is, right?
Well not really in this situation does that saying hold true. A better phrase to use here would be – "less is more".
By planning exactly what sort of clothes you will need for the destination you are heading in will allow you choose items that are a perfect match.
The first item you need to pack is a good pair of trousers/pants. These can be the lightweight type if you're travelling to a hot climate, or slightly heavier if you're going to a colder region. Usually you only need one pair, but you may decide to bring a second pair – just for variety. Do whatever feels right to you.
A short sleeve t-shirt is next on the list. Having something like this to throw on you at any time is a very versatile garment. You don't want to go travelling without something like this in your bag.
Some sort of long sleeve t-shirt is also essential. This could be a light one for a hot climate or a heavier one – depending on where you go. Not only will this add some variety to your mobile wardrobe, but it will also act as a layer in colder conditions. You can also use the short sleeve t-shirt as well to layer up.
Next is a decent waterproof jacket. The benefits of this don't need to be spelled out, but having a good quality one will give some breathability as well as water protection.
Finally, a decent pair of trainers/shoes is absolutely essential. You're going to be spending a large amount of time on your feet while travelling, so you need to look after your feet at all times.
They say that the two most important things that a person should invest in is a good pair of shoes and a good bed. Why? Because if you're not in one, you're in the other. Makes perfect sense doesn't it?
Extra tips for shopping for your trip
Bring quick dry items. Many brands also do quick dry clothing items, which can be useful for rainy days.
Wherever you are, remember you can shop online for essentials. You can shop for  plus size clothing in Australia  here, or buy new camping gear items  here. As long as you have an internet connection or an internet cafe, everything is at your disposal!
On that note, also remember to bring a mobile phone that isn't locked to your provider – this way, you can buy a local SIM instead of paying for roaming fees.
Keeping these few tips in mind will help you plan your clothing list a little bit better in the future.