Bangkok's main airport, Suvarnabhumi Airport, is located around 30km from Bangkok city. If you're flying into Bangkok from pretty much anywhere, this is the airport you'll fly into. I'm in and out of this place every month so I thought I'd share some of my wisdom and help you guys avoid getting scammed on your arrival in the land of smiles…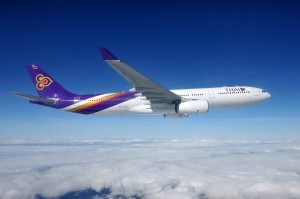 Most backpackers will head to Khao San Road which is found in the West of the city – so when you land in the airport you have to choose how to get there. How muchis a taxi to Bangkok airport? Should I take the bus? Here are your options and answers:
1) Take a taxi – if you do this, make sure you demand the meter to be used, don't accept any bartering or set fees, it's the meter or nothing. To Khao San Road from the airport it's about 400 Baht ($13 USD), to the city centre about 350. The charge is made up from tolls + airport surcharge + the meter, so although the meter may state less, you also have to pay the rest! This takes around 20-30 minutes.
2) Take the Bangkok airport bus – This costs 150 baht ($5 USD) and drops you right at the end of Khao San road, it takes almost an hour but is very convenient (you need AE-2 which goes to Banglamp, where Khao San is found)
3) Take the new Airport Link (train) – There are two options here.
a) Express Line to Makkasan Terminal, near Phetchaburi MRT, runs every 15 mins, costs 150 Baht. Takes about 20 mins.
b) Cityline to Phaya Thai (BTS) station, runs every 15 mins and costs around 50 Baht.
NOTE: However, if you're headed to Khao San road, then skip these options because you're still another 30 min cab ride from there when you get off the skytrain.
You're in no rush to choose between these option as both are found beside each other. Finding your way around Bangkok Airport can be quite tricky but if you go downstairs, follow the signs for taxis and outside you'll see the taxi rank with a queue forming. If you want to take the bus, walk on past the queue another 50 metres or so and the airport bus stand will be there selling tickets.
If you're alone, jump on the bus – it's cheap, easy and you'll meet people in the same situation as you. If you're with mates, taxis are cheaper and faster. Enjoy Bangkok!