You don't have to go to the Caribbean to find paradise-like beaches. Croatia has its very own paradise, Dubrovnik, one of the most beautiful places in the world.
Croatia is one of Europe's hidden gems. Most touristsfrom inside and outside Europe choose to go to the morecommon tourist destinations,  such as Spain,  Italy and France,  but in terms of beauty,  few places can rival thiscountry on the shores of the Adriatic Sea. In the south ofthe narrow Croatian coast,  on the border with Bosnia,  liesthe beautiful city of Dubrovnik,  known as 'the Pearl of theAdriatic'.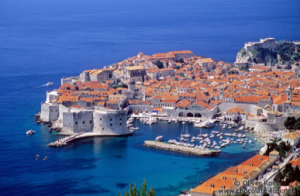 This town of only 42, 000 inhabitants,  is the home to someof the most beautiful beaches in the old continent. Unlikeother beaches on the Dalmatian Coast,  Dubrovnik has finesand beaches as well as pebble beaches. Its crystal-clearwater of the deepest blue and turquoise colours makebathing in it one of the biggest pleasures anyone canexperience,  especially since they're also so clean.
Not only does Dubrovnik have amazing beaches but it'salso one of the most interesting cultural spots in Europe.The town's walls are one of its most famous landmarks, which you can walk on and get some amazing views ofinland Croatia, and some of the city's forts, as well as theAdriatic Sea, a view that you won't forget in a hurry.You'll have to pay 70 kuna ($11, 9€) to see them but it'sdefinitely money well spent.
Dubrovnik also has many churches and palaces in the city that go back as far as the 16th century, so it's a greatdestination for all history and architecture lovers, as wellas having many different museums that range from artmuseums of the history of Dubrovnik, back when it was a naval power in the 15th and 16th century,  to the maritimemuseum,  since Dubrovnik is nothing without the sea.
Since it's by the sea,  this Croatian town is also a greatplace to practice water and extreme sports,  from sailing to bungee jumping and different activities at sea. Also,  thereare many places that rent boats of all sizes,  depending onyour budget, so you can go and enjoy a day at sea, ideal for special celebrations. Also,  Dubrovnik has a veryfamous festival that takes place each summer,  the aptlynamed Dubrovnik Summer Festival,  which includesconcerts,  plays and street performances that liven up thecity even more. The town also hosts two important film festivals ,  the Film Noir Festival and the Libertas Film Festival,  both of which take place in the summer months.
Croatian gastronomy,  especially that of the cities that areon the shores of the Adriatic,  such as Split,  Dubrovnik andthe islands such as Hvar,  have a very rich seafood offer, with the freshest fish that you could wish for at incrediblylow prices and abundant portions. Always try and find therestaurants that are clearly not aimed at tourists for thebest prices and the freshest food.
As you can probably imagine,  Dubrovnik was one of themain targets during the Croatian War of Independence inthe early 1990s and a lot of damage was caused to the city, most of which has been restored,  although you can stillsee the war scars on the walls of the buildings caused bymortars and bullets. If you're interested in this subject, make sure you don't miss out on the photographicexhibition centre,  War Photo Limited,  which has amazingand shocking photography from this sad period.
However,  Dubrovnik is thriving once again today and it'sone of the biggest tourist spots in Croatia,  since its charm is hard to resist to all beach, culture and history lovers.
If you're looking for an alternative holiday to the traditional summer destinations, make sure you check the Dubrovnik apartments directory to find comfortable accommodation at excellent prices so you can spend freely in Dubrovnik and enjoy one of the most beautiful places on earth.