When one thinks about Thailand, images of Elephants are conjured forth. This is to be expected – Elephants are as synonymous with Thailand as they are with India – at least this is true for the people of Thailand. Elephants are as embedded in Thai culture, as the Thai people rightly claim to have a special relationship with them, based on hundreds of years of mutual history. Here are some things you might like to know about this history and relationship, before you embark on your own elephant adventure.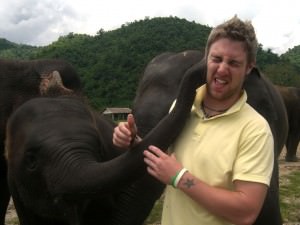 Elephants in Culture
Elephants in Thailand have long been considered a national symbol and, as some would cynically suggest, a necessary figurehead of the Thai tourism industry. But more than that, they are honoured throughout Thai history, much as dogs are in the West, as the companion of man. Elephant training was once and to some extent still is, handed down from generation to generation and the animals themselves have been used for everything from logging in the vast and dense Thai forests, to fighting in wars against the people that were then known as the Burmese. People's attitudes towards elephants in contemporary Thailand seem less romantic, but the ancient cultural influences are still very visible today.
Surin
Surin, the north-eastern province that produces close to 90% of Thailand's rice, is famously home to the Surin Elephant Roundup – an annual show that usually takes place at the end of October. Thai people and farang (foreigners), alike, gather from miles around to watch and in some instances, take part in the festivities. In Surin's Elephant Stadium, many elephants and their trainers put on a fantastic show that includes an elephant football match, a tug of war against willing volunteers from the crowd and finally a re-enactment of an ancient battle between the Thai, Khmer and Laos people. If you do get the chance, it's well worth a visit although, there isn't an awful lot else to do in Surin unless you're there for any significant length of time.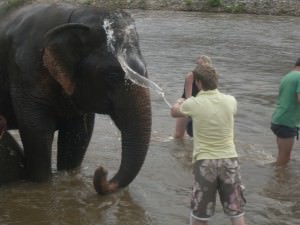 What you don't see
It is not uncommon when travelling Thailand, to see people taking their elephant for an afternoon stroll, but don't be fooled – many of these elephant walkers are out for money. They will approach you and ask you if you wish to feed their elephant sugar canes. As lovely a treat for the elephant as this may sound, it's not always the case – many trainers or owners, purposefully addict their elephants to the sugar cane, which needless to say, is pretty bad for their health. Though this isn't always true, it's good to be mindful of what's best for the animal. There are others who suggest that there is widespread elephant cruelty in Thailand, but this isn't something I'm qualified to comment on.
Travelling to Thailand itself is really quite a simple affair – flights depart regularly from Heathrow Airport to Bangkok's main international airport, Sukumvit. Getting from the airport to your destination is relatively trouble-free, as there are many taxi, train, bus, coach and Tuk-Tuk services, situated just outside of the station.
All in all, it's a bit of a mixed bag – on the one hand you have an iconic animal which represents the Thai philosophy of a slow, meaningful and happy life, yet on the other and in stark contrast, a controlled animal which represents the increasing westernisation of the eastern world. The best way to form your own opinion, is to go there for yourself and experience it all first hand in the beautiful context that is, Thailand.
This post was written by XXX on behalf of Heathrow Airport. The views expressed in this post do not necessarily reflect the views of Heathrow Airport.