Most travellers are attracted to Germany by the bright lights of Berlin, but how about a visit to the country's second largest city, Hamburg? This year, it was named Germany's most attractive city , so it's well worth seeing what all the fuss is about. We've handpicked some of the best things to see and do whilst you're there so you can plan your itinerary in advance.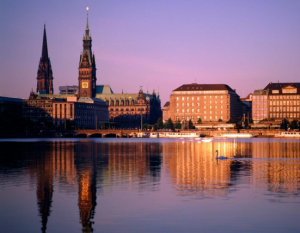 Rooftop Views at St Michaelis Church
Standing at over 130 metres, St Michaelis Church is the most famous church in Hamburg. Climb the 453 steps to the steeple and you'll be met with breathtaking views across this iconic city, including its world-famous harbour. Taking a trip to St Michaelis Church at sunset makes the experience even more special, as you're able to watch the sun go down over the horizon, casting a hazy, orange hue across the skyline.
Travel StadtRAD Style
If you want to get up close and personal with Germany's second largest city, the best way to explore it is on the StadtRAD bikes situated all over the city. If you're from the UK, imagine a German version of London's 'Boris bikes' that everyone uses. Germany's cycling facilities are excellent, so riding around on a bike feels perfectly safe, and it's one of the most popular ways to travel in Hamburg.
Explore Hamburg's Many Markets
Germany is famous for its markets, so exploring at least a few of them is a must when you're visiting Hamburg. There's a weekly farmers' market held on Schulterblatt every Thursday from 1.30pm – 6.30pm. We'd also highly recommend the Fischmarkt if you're a foodie. With a bustling atmosphere (despite only being open on Sundays from 5am – 9am) and the best fresh fish and seafood the city has to offer, it's well worth getting up early for.
A Night Out on the Reeperbahn
The Reeperbahn is something you will have heard of if you've done any research at all into your visit to Hamburg. A seedy but bustling street of night life, it's also home to the red light district. Don't let that put you off though, it's a must-see for tourists and the place is always bustling with holiday makers, some even just wander down the street at night to see what all the fuss is about. If you're into clubbing, there's plenty to entertain you on the Reeperbahn, so check out this blog post if we've got you intrigued.
Where to Stay?
Like with most big cities, your trip to Hamburg can be done on a shoestring if you choose to stay in one of the city's many hostels. If you're after something a little more luxurious though, Kempinski five star hotels have a branch in Hamburg, providing luxury in the centre of the city. After a long, tiring day exploring, you can enjoy the hotel's private cinema and 'energy clinic' where you can revitalise in the fitness centre, take a dip in the pool or relax with a beauty treatment.
So, if you're looking for a weekend getaway in Europe, forget Berlin and take a trip to Hamburg instead.