Few things are more annoying that finding that a city is completely shut down on a Sunday when you're visiting it on your travels. This occurrence is a regular one in southern European countries, where shops and places aren't even open in the mornings, and the whole city is a ghost town for the whole day. Yes, this might be a time to relax but you want to discover and see new places while you're there, and if you're only there for a few days, it's a day wasted. However, Madrid has put forward a new initiative that will get you out of your Madrid apartments on a Sunday, Madrid Sunday Shopping.
This initiative is aimed for both tourists and locals so that they can enjoy a day in one of Madrid's most exclusive barrios, Salamanca. Not only will you be able to shop and buy all sorts of clothes at discounted prices but also you will be able to find many bars and restaurants that will be offering special promotions on their beers and drinks, with their special priced beer and tapa for 3€ or Sunday brunches at prices below 20€ per person. If food and shopping weren't a good enough bait already to go there, there are other unique and original activities that you can see there.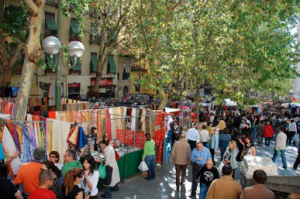 For example, there is a tuc-tuc service that drives around the whole district that will take you to the shops, bars or restaurants that you wish. For anyone who doesn't know what a tuc-tuc is, it's a small motorized vehicle that carries passengers, very typical of Southeast Asian countries such as Thailand and Vietnam. It will carry out a circular route from the Parque del Retiro up to Calle Juan Bravo, up Calle Velázquez and down Calle Serrano, right in the centre of the action.
On a peculiar note, there will be an exhibition of giant shoes scattered around the area that are a mixture of fashion and architecture. Also, on the corner of Serrano and Ramón de la Cruz, there will be live music to enjoy if you're in need of a rest after a busy day of shopping and eating. There will be promotional stands that will offer special discounts on their products and prizes to be won, such as personal shoppers for the day. Included in this category, the Spanish airline Iberia will have their logo in some shops which will give you the chance to win free flights to many of their destinations. However, don't think of this as a fair, it's simply an initiative to make Sundays more pleasurable in Madrid and to incentive tourism and commerce.
This initiative will only run for five Sundays, ending on the 24th of June. However, if it's as successful as it was on its first Sunday, it will probably go on much longer. I for one sure hope it does.
Food, drink, shopping, music… what's not to like? Rent apartments in Madrid and come and enjoy a Sunday packed with events and Spanish culture in this wonderful city. Who said Sundays were boring?