Stretching along the western side of Egypt's Red Sea Riviera and into the surrounding desert, Hurghada sits divided into three main areas: El Memsha, the modern part, El Dahar, the old part and Sakalla, the hotel quarter.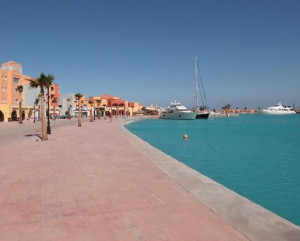 Attracting travellers from all around the world, Hurghada has slowly converted from a small fishing village into a vibrant and exciting city. Here's everything you need to know about visiting it.
Where to stay
There is an abundance of hotels to choose from in the Hurghada area, all of which offer different styles based on where they are in the city. Al-Qusayr is a resort close to Hurghada, which is one of the oldest cities on the western coast. White sandy beaches can be found along the touristy resort of Makadi Bay whilst the village of Sharm El Naga offers a more rustic Egyptian feel complemented by a beautiful reef cliff.
Known as the Venice of Egypt, close by El Gouna offers 14 hotels over several islands connected by bridges. There are an abundance of Hurghada hotels available through Qwerty Travel so why not take a look and see what you fancy?
What to do
Whilst transforming into the city it is today, Hurghada has managed to retain a lot of its natural and historic charm. Take a dive into the clear waters of the Red Sea to explore some great wreck sites and reefs with an abundance of vibrant and spectacular wildlife.
For those who prefer to stay high and dry, glass-bottom boats provide a look at the coral reefs if you don't fancy snorkelling.
It is also easy to take day trips out into the desert on quad bikes, 4x4s or even camels! Try to catch the early morning rays or watch the sunset for a truly special experience.
Where to eat
Most of the hotel resorts offer an abundance of restaurants and cuisines to choose from, with international, Arabic and Italian dishes all popular.
Downtown in El Dahar, authentic Egyptian food is available for a taste of the traditional Middle East. The oldest part of the city offers a stack of restaurant and street stalls, where you can enjoy foods including falafel and shish taouk.
You can find out more about Egyptian food here and decide which dishes you want to try while away.
Where to go out
With a lively night scene, Hurghada has an abundance of bars and restaurants offering live music, dancing and karaoke into the early hours. Night-time activities range from belly dancing and Arabic music to DJs with foam machines – so wherever you head out, there is bound to be something that appeals to your tastes.