Africa and safari are inextricably linked. But if you plan to don your khaki trousers and your Tilley hat for a wild adventure, where exactly do you plan to go?
Africa is a big place and there are lots of parks to choose from. As not all plains are created equal, here are some of the best: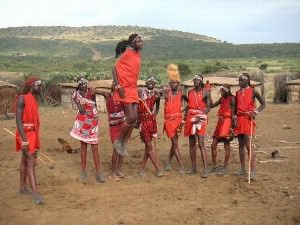 Maasai Mara National Reserve
If big cats are your thing, The Mara is packed full of deadly felines. It can also boast sights of the great migration: every year, more than 2.5 million animals make a 2, 000 kilometre journey between Tanzania and Kenya. Generally, The Mara is considered Africa's top safari destination.
Central Kalahari Game Reserve
Connoisseurs of truly untamed desert wilderness can head to 'the plains where courage fails.' San Bushmen have lived in this raw landscape for approximately 30, 000 years. If you really want to get away from it all, Kalahari has been separated from the crowds and tour buses that flock to other parks. Usually, you're about 50 kilometres away from the nearest human being.
Kidepo Valley National Park
One of the most picturesque parks in Africa, Kidepo is fairly exclusive and unexplored. It shares borders with Sudan and Kenya's Northern Frontier District. You'll benefit from great wildlife sightings; especially large buffalo herds.
Ngorongoro Crater Conservation Area
The 'big five' (buffalo, rhino, elephant, lion, and leopard) are prolific around the Crater – a lot is packed into a relatively small area. The first glimpse of the crater is heart-stopping; good luck with getting down the inner walls! It's a good choice for first timers, as it makes safari easy.
Etosha National Park
This safari park has been named 'Great White Place' by the locals because of the ivory ground, leftover from a former lake. The trick to Etosha is to just hang out around the waterholes and the animals will come to you. Expect to witness the big five again, as well as gazelle and antelope.
The Gambia
Along the Gambia River you can find as many as six national parks! The Gambia is ideal for bird-watchers (more than 600 species are at the mercy of your binoculars). You can also find plenty of monkeys, baboons, and chimpanzees. Beware the crocodile packed waters; you can spot African otters and manatees, but don't get too close!
Ahaggar National Park
If you're looking for the kind of physics-defying landscapes that will leave your jaw hanging, Ahaggar is for you. This national park is 40 times the size of Gambia and contains an amazing 3, 000 metre mountain range, as well as classic dunes. Enjoy hanging out with the Tuareg nomads.
Kruger National Park
South Africa's most popular park, Kruger, has a huge diversity of wildlife. It's one of the best equipped safari parks in Africa; if you're a creature of comfort, you'll do best here. It's also great for self-drivers, as it's well signposted and maintained. Included in the safari sightings are hikes and mountain-biking trips, for a bit of variety.
This post has been contributed by Hannah, a lifestyle and travel blogger from the UK. She has written this post for Knowsley Safari Park in England.