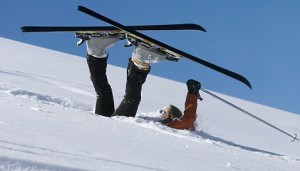 You've never been skiing before
This is definitely the most obvious one. The intention here is not to scare any first time skiers – you may well take to the slopes like a duck to water – but what if you don't? Even if you sprain your ankle while skiing, you will want the best medical cover so that your injury can heal quicker and you can get back on the slopes.
You've already decided it's extortionate
If you've booked your ski holiday through a travel agent, chances are that they've probably tried to give you the hard sell on ski insurance to accompany your trip. However, you're certainly not obliged to buy ski insurance from the travel agency that you booked your holiday through. You can often get a better deal through insurance companies or by using comparison sites to find an insurance plan which is best for you.
You're going skiing abroad
Even if you're going skiing in Europe, you need to get travel insurance. Contrary to popular belief, having a European Health Insurance Card (EHIC) does NOT cover you for most medical care while in Europe – especially not skiing accidents!
You have annual travel insurance
Most people believe that this is a reason that you don't need to bother buying ski insurance, but does your existing annual travel insurance policy cover extreme sports like skiing and snowboarding? A lot of policies don't include this as standard, so if you didn't add this onto your plan when you first bought it, you might find that your cover is limited to standard baggage cover and flight cancellations when you go skiing. What you need is a comprehensive winter sports insurance policy, which takes into consideration the possible pitfalls and costs associated with the slopes. Even if you did purchase skiing insurance alongside your annual policy, be sure to check the terms and conditions – there may be a clause which limits the amount of days you're covered for.
You're a skiing enthusiast
If you're an experienced skier and you regularly go skiing, that's great…but it doesn't make you invincible! According to The Royal Society for the Prevention of Accidents, approximately 10, 000 British skiers and snowboarders visit hospitals each winter due to wintersports injuries, so it's really worth investing in a decent insurance plan – and getting an annual policy for wintersports could work out cheaper than paying to insure each individual trip. Even if you are a confident and sensible on the slopes, you could find yourself at being bundled down a hill because some amateur or daredevil has crashed into you on their way down!